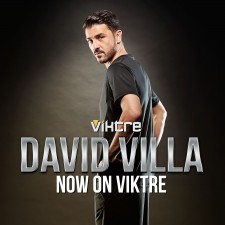 VIKTRE is proud to announce the signing of world-renowned football superstar, David Villa, onto its athlete content publishing platform
TORONTO, Canada, June 6, 2017 (Newswire.com) - ​​David Villa, the legendary Spanish forward and all-star football player, is joining VIKTRE to share his unique experiences online and to better connect with his international fans. As the first-ever captain of the NYCFC, Villa led the fledgling team as the top scorer for both the 2015 and 2016 regular seasons, winning him MVP. He is also the MLS MVP for the 2016 season.
Internationally, Villa is the all-time leading goal scorer in the Spanish national team history, scoring more than 100 goals for Valencia before moving to Barcelona and Atlético Madrid. He's also won multiple awards, including Spanish Player of the Year, FIFA World Cup Champion, and the Champions League crown. In his spare time, he likes to travel, spend time with his family, and interact with his more than 25 million fans on social media.
"I am very happy to join the VIKTRE community, where I can share my on- and off-the-field experiences with all my fans," said Villa. "For me, VIKTRE is important because it is a unique platform where athletes unite to share with their sports fans the things that matter to them. With VIKTRE we will make a difference."
Developed to showcase the life of an athlete, VIKTRE provides a multi-faceted network and community for professional athletes to connect on a more personal level with their fans. The platform features two interfaces: One for fans to interact with their favorite athletes via exclusive content, and one for professional athletes of all levels to interact with each other in a private, peer-to-peer setting.
"VIKTRE is all about embracing and celebrating the life of an athlete, on and off the playing field. We're very excited to welcome David. VIKTRE and David have many values in common," said Al Steele, CEO and Chairman at VIKTRE.
VIKTRE is being accessed by sports fans in more than 100 countries and includes multilingual support in English, German, Italian, Spanish, French, Hindi, Russian, Italian and Brazilian Portuguese.
The platform is available to users via the web, mobile apps, handheld devices with VIKTREtv, and VIKTRE Live, coming soon.
About VIKTRE:
"VIKTRE is the content publishing platform of choice for the world's greatest athletes. With more than 1,000 athletes representing 250 million social media followers globally, VIKTRE is the source for all stories an athlete should tell.
Notable VIKTRE athletes include: Twenty three-time gold medalist Michael Phelps; world's most prestigious footballer Ricardo Kaká; Indian Cricketer Virat Kohli; NFL All-Pro Ezekiel Elliott; two-time Stanley Cup Champion and NHL Hall of Famer Phil Esposito; two-time World Champion PGA Golfer Ian Poulter; all-time F1 race leader Rubens Barrichello; Current WBO Asia Pacific Super Middleweight Champion Vijender Singh; World Cup Champion Footballer Roberto Carlos; nine-time Tour de France team winner George Hincapie; Super Bowl MVP Santonio Holmes; first-round NBA draft pick Gary Harris; and WWE star Jay "Christian" Reso.
Contact:
Kamar Shah
Chief Content Officer
+1 416 277 3276
kshah@viktre.com
@Kamar_Shah
Source: https://viktre.com
Share: